NET//WORK-IN-PROGRESS 2 Webinar

This was a live webinar event hosted by the Digital Arts Studios.
It took place on Thursday 2nd December at 1pm (UK/GMT).

As the second round of the Net//Work Residency drew to an end, Digital Arts Studios was delighted to showcase how Abshar Platisza, Kesara Ratnavibhushana, André Schütz, and Wisrah Villefort progressed over the four-week period. You can re-watch this live webinar event to learn more about their project concepts and processes below on Vimeo or Youtube:





VIMEO VERSION


YOUTUBE VERSION




---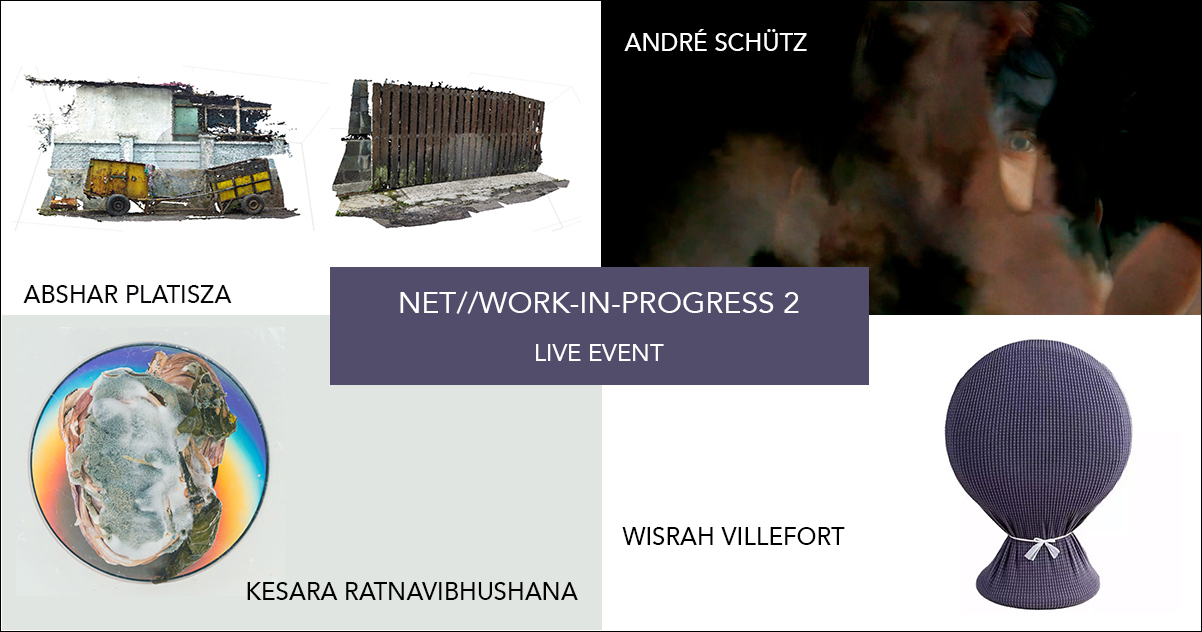 ABOUT THE ARTISTS

Abshar Platisza (Indonesia)
Abshar's work circulates around ecology and the tension of human-nonhuman relationships. In this residency, he is exploring and delving deeper into gaming engines to create imaginary landscapes using point clouds assets from the real world. He is interested in the urban details around him and aims to recompose them in the virtual form. He will be presenting his work during the residency, creating virtual worlds from real life landscapes.

Kesara Ratnavibhushana (Sri Lanka)

Kesara's explorations during the Net//Work residency began with the idea of expanding the series 'Ascent to Orbit' / 'Alternate Realities of New Ceylon'. This work consists of mostly architectural landscapes of his home city of Colombo, transplanted with highly exaggerated elements - primarily from NASA's astrophotography archive. Initially these were presented with a textual commentary on the social, economic and political development of Sri Lanka. Through the residency, however, Kesara has deepened his explorations into an upending of these landscapes via a more macroscopic rumination on the 'Fluid Normal', involving themes of impermanence and inward reflection to investigate the fundamentals of contentment and ultimately what it is that makes us happy.

André Schütz (Brazil)

During the Net//Work residency, André Schütz has been investigating corporeality in interpersonal interactions mediated by devices provided with a camera/flatscreen set and its resemblance with mirrors in appearance, functionality, and symbolism. In his work, he tries to reveal the specular debris left in cyberspace from our disembodied encounters.

Wisrah Villefort (Brazil)

While the presence of plastic in our planet, and particularly its durability, is forcing microorganisms to evolve to be able to colonize its surface and new rock types are also emerging from the combination of it with mineral materials, one cannot deny that plastic is now part of our contemporary nature. In that sense, synthetic polymers can be seen as both an alien material but also humanity's longest-living progeny.

During the residency program, Wisrah Villefort is conceiving a sound piece exploring these themes and they will exercise the practice of describing image of objects being sold on marketplaces based on the Global South, specially those made of synthetic polymers. The presentation takes a performative format and relates both to the sound piece in progress and the ongoing hypermedia piece Mercado Livre (2017 - )


More information can be found about each artist via their individual pages in the menu.